Cemeteries in Australia are fast reaching capacity, fuelled by a growing population as well as an ageing one. This creates a perfect storm for a cemetery crisis as we are quickly running out of burial space. It is already a common scenario in many other countries all over the world, and a problem which may see cemeteries eventually becoming a thing of the past. 
We have a rapidly growing population 
In the past two decades, Australia's population has grown by 28% from 18.5 million people in 1997 to 25.8 million people currently. This record population growth has exceeded all forecasts.  
In 1998, the Australian Bureau of Statistics predicted that Australia's population would reach 23.5 million in 2051, but this was achieved 37 years early, by July 2014. Current growth rates project that we will have a population of 38 million people by 2051.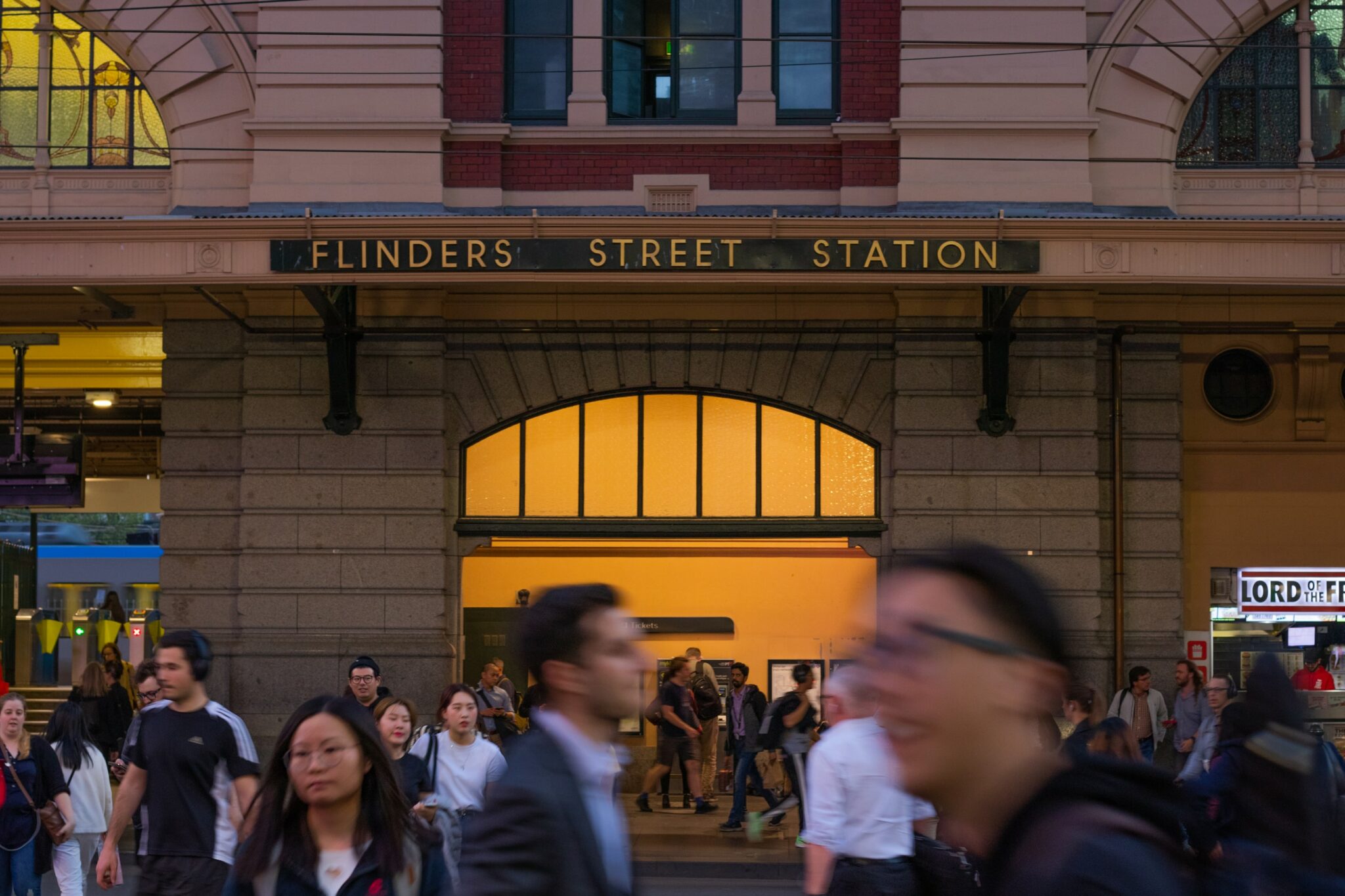 The earlier projections weren't exactly miscalculated, they were based on trends and conditions that have since evolved. We've experienced and will continue to see much higher population growth rates in Australia due to migration policy changes, increased longevity, as well as a solid birth rate compared with twenty years ago.  
The biggest factor that has blown our previous population growth predictions has been overseas migration. As of June 2019, over 7.5 million migrants were living in Australia. Almost 30% of Australia's population were born overseas. These high net migration numbers have resulted in Australia's population growth being among the highest in the developed world.  
To accommodate our growing population, there is increased demand for new infrastructure. This means new land for cemeteries, within metropolitan Melbourne and other populated Australian cities, become increasingly difficult to obtain. Instead, the priority is to use any available land to develop hospitals, schools, parks and housing. 
Baby boomers are leading us to an ageing population  
Australia is one of four countries, among the US, Canada and New Zealand, that experienced a true baby boom. Many young couples started having children after they had put off marriage during the war.  
While other countries experienced a brief baby boom of 4-6 years, Australia's lasted 19 years from 1946 – 1965. 5.5 million baby boomers were born during this period and they are beginning to turn 75. They make up one of Australia's largest population groups. In Victoria, the largest projected increase between 2006 and 2036 is in people aged over 65, followed by people aged over 75.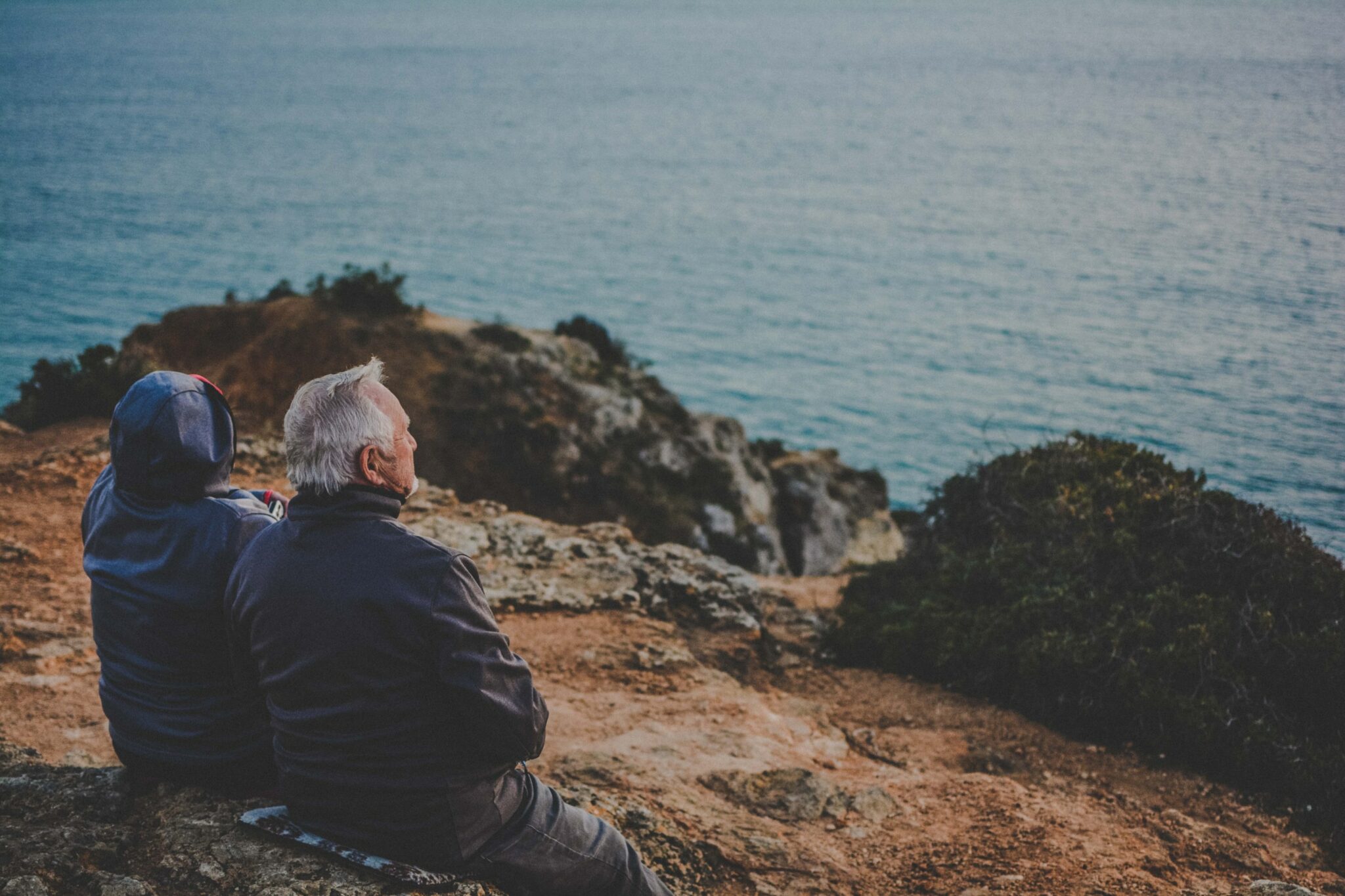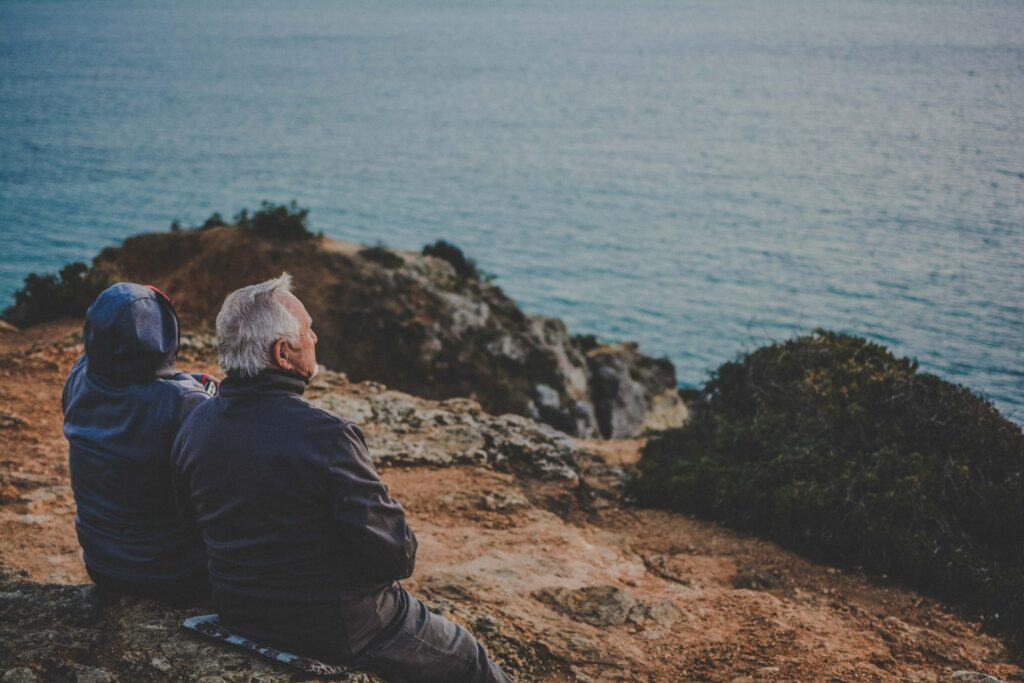 It's no surprise then that with our ageing population, Australia's death rate has more than doubled in the last 60 years. This is expected to double again by 2070.  
Traditionally we have looked to bury our dead in cemeteries, but we are quickly running out of space.  
Death is said to be the only certainty in life. There are no exceptions – it is inevitable. As we prepare for a new life to come into the world, we should also be prepared for our departure as all living forms will expire at some stage in their lives. Given the crisis at hand, we must look to new and improved ways of how we deal with bodily remains when we pass away. 
A perfect storm is brewing for a cemetery crisis 
In Victoria, nine metropolitan councils are expecting to run out of remaining plots by the end of 2035, some within the next two years.  Many other councils have already exhausted burial space in cemeteries.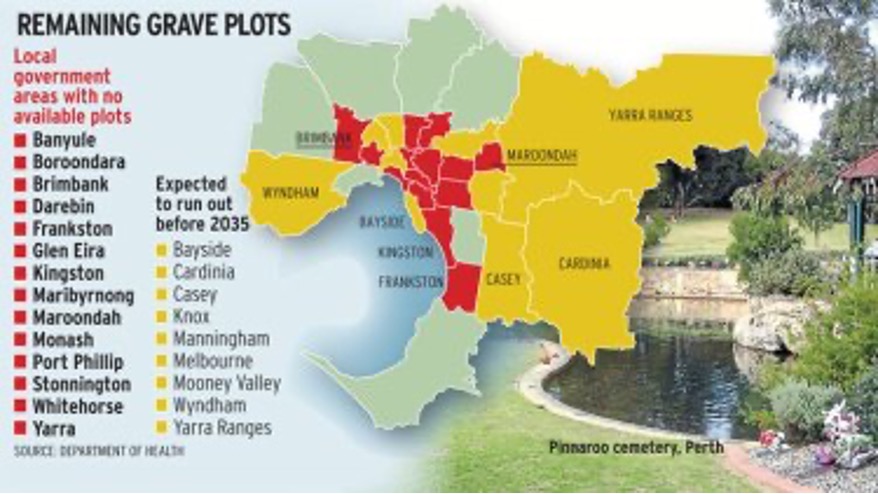 The ever-increasing land prices make it extremely challenging and expensive to acquire large pieces of land that is required for cemeteries. There are also zoning issues, limited availability of land and land needed for housing and infrastructure to consider. 
Pushing cemeteries out further away from metropolitan cities poses the problem of relatives who would like to visit the grave but are having to travel far distances. Then there's the other matter of being unable to be buried with other family members because there is no available space left – forcing people to split up family graves.  
Cemeterial land is a non-renewable resource, particularly in Victoria where it has been stipulated that the interment of bodily remains is for perpetuity. This is now changing as the Victorian government has introduced "leasing" a gravesite as an option.  
This system has long been in use throughout many countries in Europe where gravesites are leased for a limited time. After the stipulated lease period is up, the burial site will be 'recycled' to be used again.  
Leasing gravesites is uncommon in Australia with the majority of burial plots still being sold in perpetuity. However, there are some Australian states such as South Australia ("SA") where the lease system is already in place. In SA, graves cannot be leased for more than 100 years, and in some cemeteries not for more than 25 or 50 years. Recent changes in legislation in New South Wales ("NSW") has also introduced optional renewable tenure for graves. 
If the lease doesn't get renewed by the family when it expires, cemeteries will be able to reuse the grave. They will remove the bones, dig deeper and place the remains at the bottom of the grave before reselling the plot to another family.  
For governments to retrospectively introduce this law, there is bound to be controversy as it will be distressing and difficult for families to accept. A grave is considered one's final resting place.  
How would you feel if your gravesite, or that of your family member, could one day be someone else's? Would you feel comfortable buying a gravesite for a limited period of time, or would you prefer a site where you and your children could visit for the rest of your lives?  
Change is imminent, but is it enough? 
Cemeteries have been looking to create more recreational type environments with beautiful, landscaped gardens and grounds where people would feel comfortable meeting up, going for a walk or even go as a destination setting for event photos. The Springvale Botanical Cemetery in Melbourne is one example of this.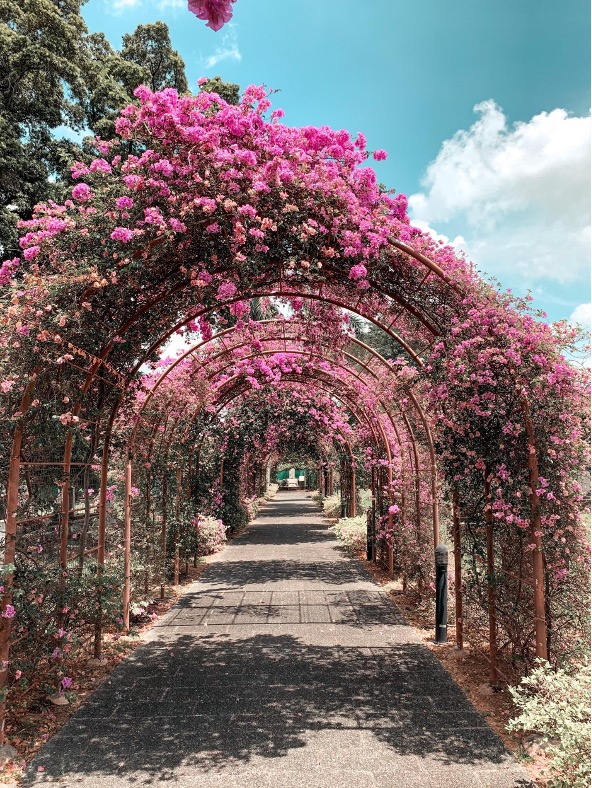 There are also some cemeteries, such as Western Australia's Pinnaroo Cemetery, looking at creating a park-like setting where wildlife such as kangaroos can roam freely. Some cemeteries in other countries are doing away with headstones so burial sites can be located using GPS technology.  
Recently, there has also been a move to online funerals and commemorations so that relatives who live far away, as well as with the SARS-COV-2 restrictions, can access live feeds and pay tribute.  
While these are all notable initiatives from cemeteries to evolve and change with the times, it still does not solve the imminent cemetery crisis which we face. That is, we're running out of available space and do not have renewable land resources which make it easy for families to access gravesites in perpetuity.  
A report completed in 2012 by the health Department shows that attitudes towards traditional burials may be changing. It estimates that 50% of people in metropolitan Melbourne and 30% in rural areas of Victoria choose cremation over burial.  
When younger adults aged 20-30 were surveyed about reusing graves, 72% said they were unaware of such a practice. That said, they were aware of the reasons why due to land scarcity and growth issues in urban areas. This same group of respondents were also open to new burial trends such as those in parks and open spaces but 68% stated they wanted to be cremated.  
If people are aware of the issues surrounding the cemetery crisis, sustainable land consumption, and the possible move towards limited tenure of interment, it's possible that they will continue to choose cremation over burials. If this is the case, it will certainly ease the cemetery emergency we are experiencing.  
What if there is an option where we could leave a legacy of a greener world? 
Mornington Green has reimagined how people celebrate a life lived, by transforming a scenic golf course into inspiring memorial botanical gardens.  
In partnership with the Living Legacy Forest Ash Treatment, cremation ashes can be detoxified to restore the essential soil biology that will enable the growth of a tree. These ashes can then be infused into a tree (one of 16 trees of your choice) and planted within an intricately designed botanical garden.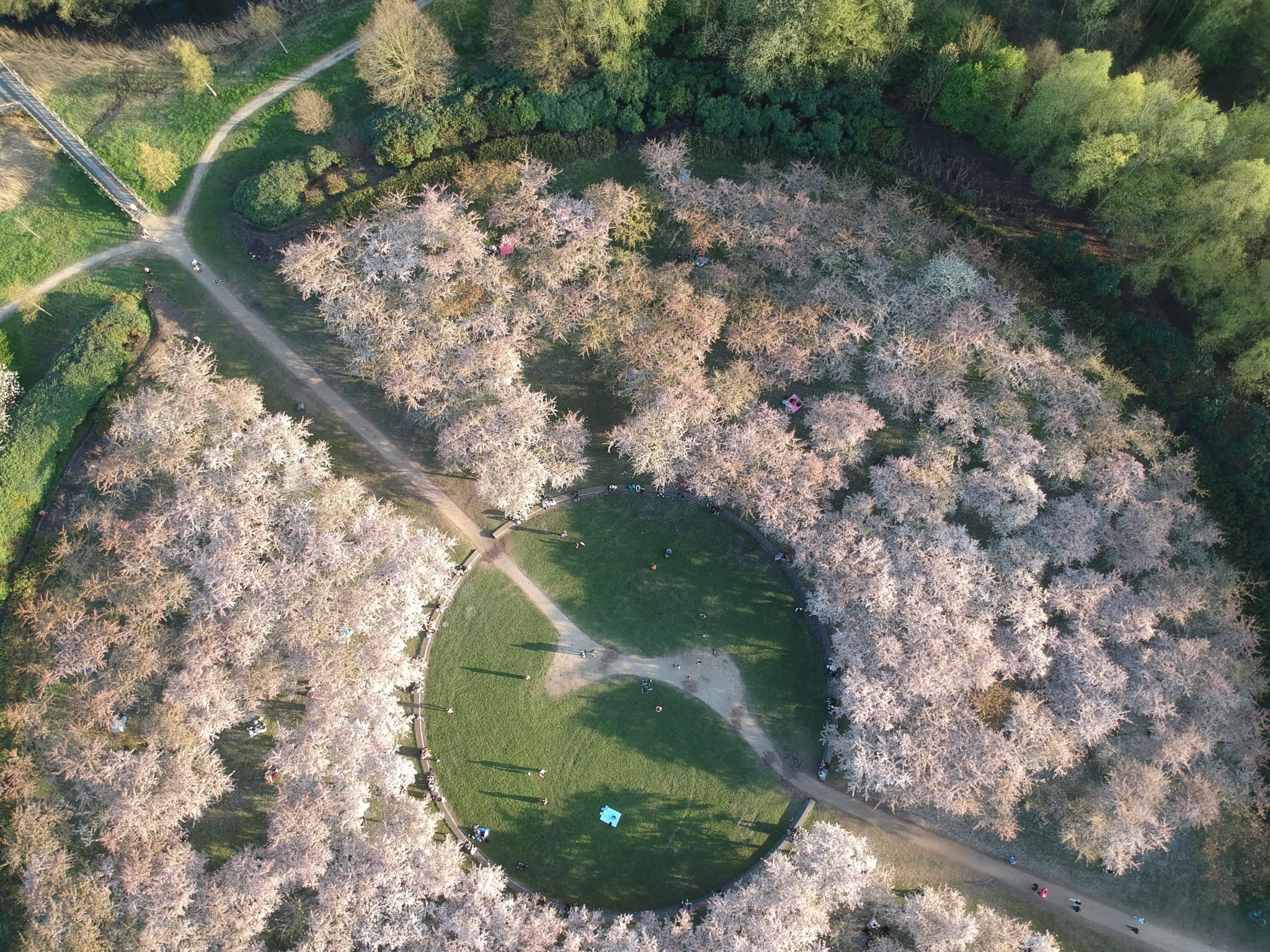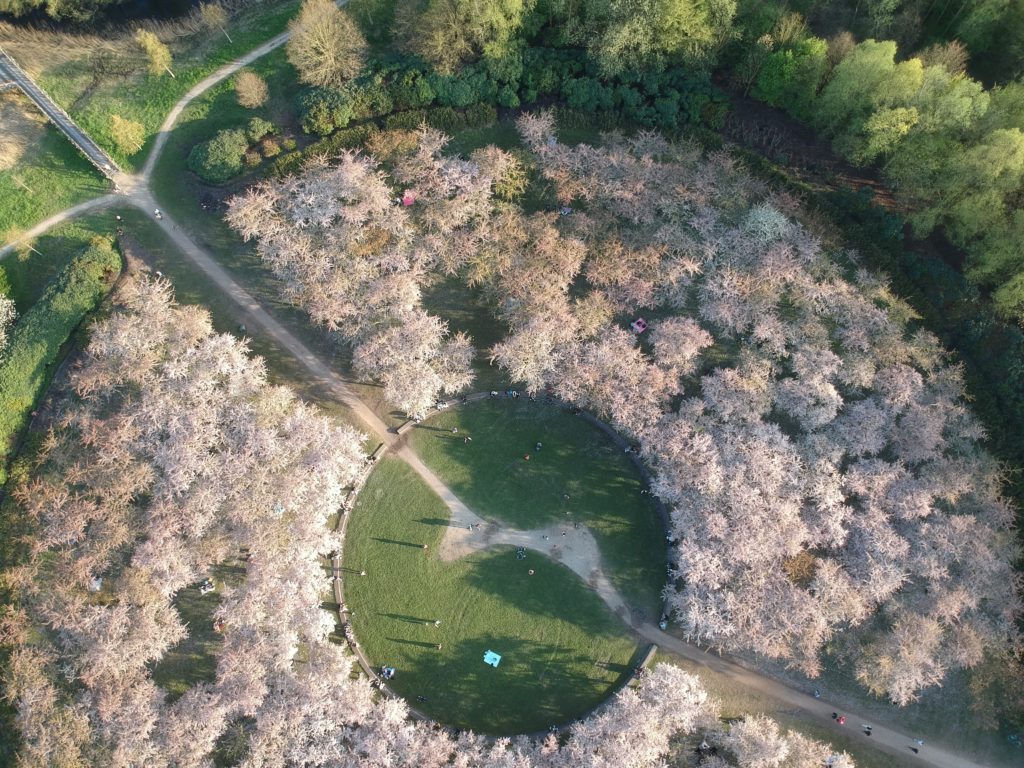 People will be able to take comfort in knowing that the tree that they plant, will be cared for and live on in the beautifully landscaped gardens in perpetuity. Friends and family will be able to visit and celebrate life with picnics, high teas, garden parties, or just a stroll through the grounds at their own discretion. 
You can even plant your tree now so you can visit the gardens with your family and watch it grow. This way you're not placing any stress or burden on your family to decide and organise the final details for you, but responsibly accepting the circle of life and celebrating it. In doing so, you will have access to the beautiful grounds year-round and can enjoy them with your family, building memories in the ever-evolving landscaped gardens.  
This is a refreshing change from morbid cemeteries and depressing columbariums. It offers a welcome change to how families can pay tribute to their loved ones and provides an innovative and eco-conscious solution to the cemetery crisis that we are facing. 
Contact us today for more information. 
Sources:  
Department of Planning & Community Victoria, Consumers Affairs Victoria, ABC News, Mcrindle, The Age, BBC